Cultural
The culture of Orcas Island is vibrant and unique; benefiting from a diverse group of artists and musicians who come here to find inspiration amidst the pastoral surroundings. Check out the impressive Orcas Theatre & Community Center. The Crow Valley School and Orcas Island Historical museums record and present over one hundred years of local history.  Take a Washington State Ferry to Orcas Island in the San Juan Islands for one of the most beautiful cultural experiences in the Pacific Northwest.
---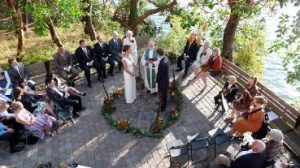 The Hall, located on beautiful Madrona Point in Eastsound, has been a natural community gathering place since it was built in 1891. The Hall is host to a variety of classes, dances, wedding receptions, art fairs, fundraisers, birthday parties and community events.
Call 360-376-5640, Eastsound, Orcas Island
Harpist/Pianist Lisa Carter performs with Emy Carter on violin and Paris Wilson on violin for a truly classical romantic sound for your wedding. The classically trained trio can perform many classical pieces, but are very talented in composing and arranging popular songs that can be performed at your wedding. Please visit our website at almostclassicalmusic.com or email us at almostclassicalmusic@aol.com
Call 360-376-2187, Eastsound, Orcas Island
The Actors Theater of Orcas Island was formed to enhance the quality of life on Orcas Island by providing quality theater experiences and providing for the training and education of Actors, Directors and others involved in theater productions and by providing an opportunity to demonstrate and improve their skills by participating in theatrical productions.