Marinas
A wide array of scenic resorts, lodges, and marinas await those visiting Orcas Island by boat.  Moor for the night or tie up at a resort dock and rest at lodging only a minute's walk away.  Restock your boating supplies or get your vessel serviced and ready for further marine adventures.  Enjoy the beauty of Orcas Island's parks and villages while exploring the maritime wonders of the San Juan Islands.
Visit our Boating and Boats pages for more marina and waterside options.  Check out our Lodging page for information on beautiful seaside resorts.
---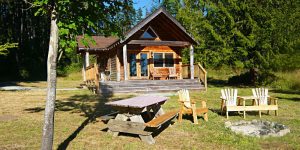 West Beach Resort is located on the sunny and pristine west side of Orcas Island, Washington. We are a private destination resort specializing in providing guests with an authentic San Juan Islands getaway. We have been an Orcas Island lodging and hotel destination since 1938. Stay in our fully-equipped beachfront cabins & cottages on our world class walk-out, west-facing, sand/pebble beach and watch the sunset as you relive the day's adventures from your private beach fire pit.
Call 877-937-8224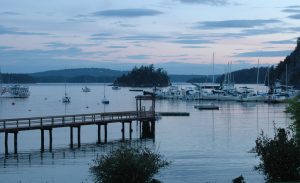 Your personal guide to beautiful Deer Harbor on Orcas Island.
Deer Harbor, Orcas Island
Cayou Quay Marina
Protected and convenient location in Deer Harbor on Orcas Island. Permanent Moorage in the San Juan Islands.
Call 360-376-4560 - Deer Harbor, Orcas Island
A longtime destination and waypoint for boaters & travelers in the San Juan Islands.  Modern dock facilities, side ties up to 120', Guest overnight docking, Electricity and potable water, High speed internet access, Fuel Dock, Laundry & showers, Beach and Pool access. Visit the  Dock store for groceries, espresso, ice cream, burgers, fish and chips, beer & wine, soft drinks, ice, bait, boat stove fuel, daily newspaper, t-shirts and some produce.  FREE shuttle access to ferry & shopping.
Call 360-376-3037 - Deer Harbor, Orcas Island
Brandt's Landing
Boat moorage just outside of Eastsound on Orcas Island.
Call 360-376-4477 - Orcas Island
Full service marina with store, overnight lodging, rental cottages. Also kayak, motorboat,and sailboat rentals available.
Call 360-376-2472 - Olga, Orcas Island
Eastsound Dock
Day moorage near village, summers only.

Robert Moran, Orcas Island's great benefactor, built the Moran mansion, which would eventually become the heart of Rosario Resort, way back in 1906. Today the renowned resort appeals to people with varied interests. Boaters who dock at the marina soon discover how much Rosario has to offer: a boat ramp, gas, showers, spa, pools, lounge, lodging, and groceries. It' s a starting place for kayaking and whale/wildlife tours. Dining ranges from casual to extra-ordinary.
Call 360-376-2222 - Orcas Island
Moorage slips, gas diesel, propane, haul out and repairs, emergency service, marina sewage pump-out station, float plane terminal.
Call 360-376-2314 - West Sound, Orcas Island
Olga Dock
Providing moorage, near local post office and the Cafe Olga & artworks, in the heart of scenic olga.
Olga, Orcas Island
Mooring sets, mooring services, dock repair, saltwater pressure washing, diving availability.
Call 360-376-3236